WP Booking System Update – Version 5.8.8
Version 5.8.8 – May 2023
We are pleased to announce the release of WP Booking System version 5.8.8, which brings several enhancements and a notable new feature: the Dashboard page. This update aims to improve the overall efficiency of managing bookings, making it easier to stay organized and informed. Alongside these improvements, we have also addressed minor issues to enhance the stability of the plugin. For a detailed list of changes, please refer to our changelog page.
Introducing the Dashboard:
One of the key additions in WP Booking System 5.8.8 is the Dashboard page. This new feature provides a centralized view of upcoming bookings, important notifications, and a comprehensive list of events. The Dashboard aims to simplify your booking management process and streamline your workflow.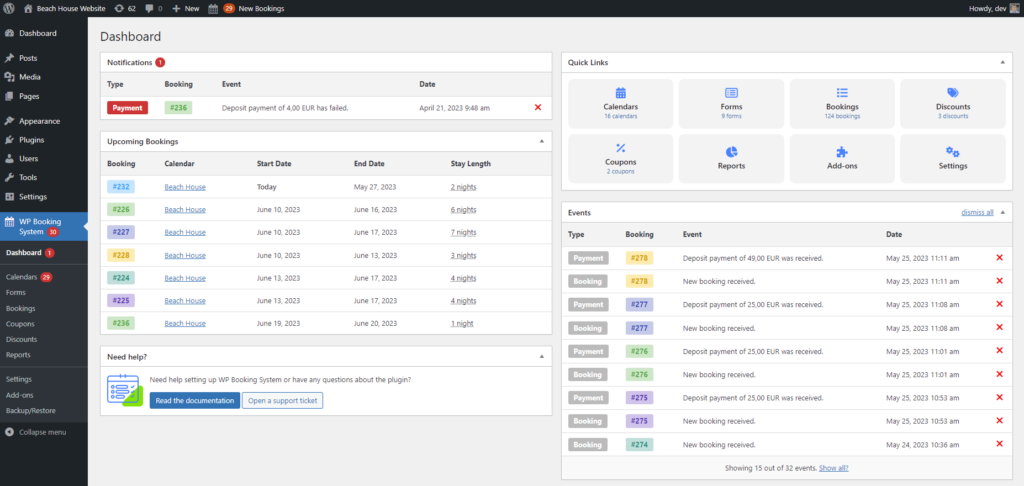 Minor Fixes and Improvements:
In addition to the Dashboard, we have taken the opportunity to address minor issues and implement various improvements in WP Booking System 5.8.8. These enhancements contribute to the overall stability and user experience, ensuring a smoother operation of the plugin.
To explore the complete set of changes introduced in WP Booking System 5.8.8, please refer to our detailed changelog page.
Upgrade to WP Booking System 5.8.8:
To benefit from the new Dashboard and other improvements, simply update your WP Booking System plugin to version 5.8.8. As a best practice, we recommend backing up your website before performing any updates to ensure a seamless transition to the latest version.