Documentation Menu
Editing the legend
To edit your calendar's legend items, scroll down on the Edit Calendar screen page until you see the Legend box. Click on the Edit Legend Items button.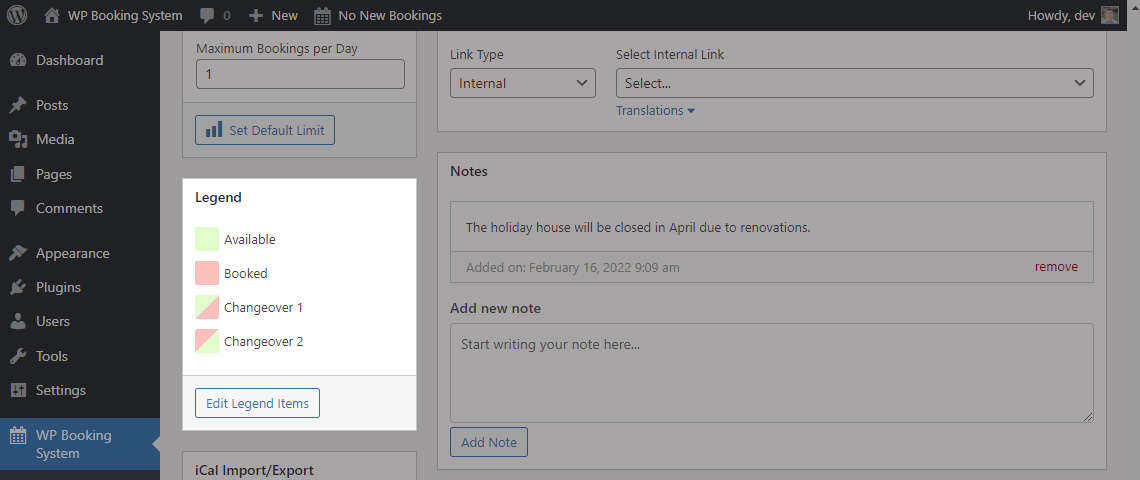 The legend overview
This page displays all the legend items belonging to a calendar. You can add new legend items and edit or delete existing ones.

There are some options that can be configured directly from this page.
Default Legend
The default legend item fills the entire calendar. It is used as the default legend where no bookings are made. There can only be one default legend item, and in most cases, this is the "Available" one.
Visible
Controls whether or not to display the legend item in the Legend table when embedding the calendar. Changeovers are not visible by default because they are a variation of the Available/Booked legend items.
Bookable
Controls whether or not the legend item can be selected by the visitor in order to make a booking.
Auto Accept as
When embedding the Calendar on the website, you have an option to Auto Accept bookings. This means that, when a booking is made, the booked dates will automatically be set to the legend that has the "Full Day" option.

Also, when embedding a calendar, if you set the "selection type" to split, the beginning and end of the booking dates will be set to the legend items that have the "Starting Changeover" and "Ending Changeover" options.